SINGLE AXIS STEPPER MOTOR DRIVER
Dual Input Voltage
The single axis, stepper motor driver was developed for those users that need a simple off the shelf driver. The bipolar driver uses the latest technology in controlling the RMS voltage and current via a fixed off-time chopper technique and is capable of supplying between 0.5 and 3.0 amps of drive current using an input power supply between 12Vdc and 50Vdc.
A heat sink is required for applications using currents above 2.0 amps. Many users attach the drivers to their own enclosure to accomplish the required heat transfer. A heat sink is available as an option for those that do not wish to enclose the driver. This heat sink also provides four holes that can be used for mounting the assembly to a flat surface in your application.
The engineers at Cline Labs will be glad to help match the driver to your application.
TIMING DIAGRAM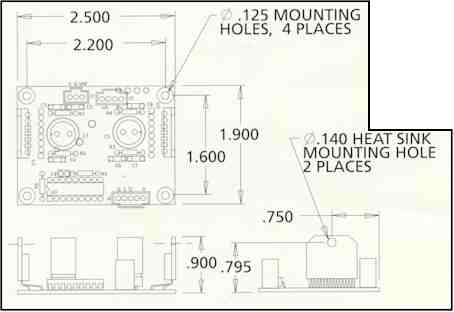 PIN ASSIGNMENTS
| | |
| --- | --- |
| Pin Designations | Description/Function |
| J1.1 | + MOTOR VOLTAGE |
| J1.2 | GROUND |
| J1.3 | + 5VDC |
| J2.1 | GROUND |
| J2.2 | STEP (TTL) |
| J2.3 | DIRECTION (TTL) |
| J2.4 | N/C |
| J2.5 | ENABLE (TTL) |
| J3.1 | B+ |
| J3.2 | B- |
| J3.3 | A- |
| J3.4 | A+ |